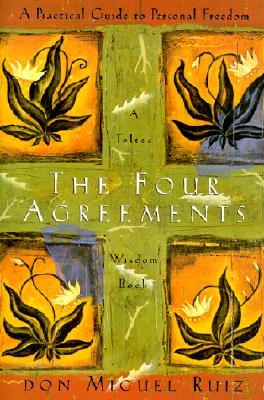 "
In The Four Agreements shamanic teacher and healer Don Miguel Ruiz exposes self-limiting beliefs and presents a simple yet effective code of personal conduct learned from his Toltec ancestors. Full of grace and simple truth, this handsomely designed book makes a lovely gift for anyone making an elementary change in life, and it reads in a voice that you would expect from an indigenous shaman.
The Four Agreements offer a powerful code of conduct that can rapidly transform our lives to a new experience of freedom, true happiness, and love. The Four Agreements are: Be Impeccable With Your Word, Don't Take Anything Personally, Don't Make Assumptions, Always Do Your Best."
Published November 7th 1997 by Amber-Allen Publishing
How I stumbled on this book is actually an interesting thing.
Other than reading and writing, my biggest passion is music so I follow a lot of music accounts on twitter and instagram. One of my very favorite bands is Florida Georgia Line so, naturally, I follow their band account and their personal accounts. When Brian Kelley got married he posted something about him and her, and I started following his wife, Brittany Marie Cole Kelley, on twitter and instagram because she pretty hippie and earthy like me so I enjoy her posts.
One day she posted that she was reading this book and it was fantastic. I tried to check it out of the library but there was a wait line of about 15 people. So I went to Barnes and Noble to see about just buying it and it was actually on the "This Weeks Best Seller" shelf. I was so surprised that a book that has been out since 1997 was on the best seller shelf again.
I decided to wait on it at the library since I had so many other books I needed to read at the time, but when I got it I flew through it.
Granted, it's only 160 pages, but it is a book that needs to be taken in and savored.
As a Christian (which is my foundational faith, always has been, always will be, so I go to the Bible before any other book for spiritual guidance) I did not agree with EVERY spiritual and religious aspect in this book, but I love reading about spirituality a lot so it was an incredibly interesting book.
The biggest thing I didn't like about this book, is I know the Four Agreements are supposed to simplify life, BUT sometimes it felt a little too simplified. Not the theology, the writing. I was looking for something a little deeper, but at times it felt like reading a grade school text book.
The Four Agreements are: Be Impeccable in Your Word, Don't Take Anything Personally, Don't Make Assumptions, and Always Do Your Best.
There isn't a whole lot to disagree with with the basics of the Four Agreements.
It definitely gave me a new perspective to look at certain things in life and some good suggestions of how to handle bad things.
If you have a bit of a bohemian, gypsy, or hippie soul like me and like reading about interesting beliefs then this would be a book for you.
3 out of 5 stars, simply for I enjoyed the book, but felt it was a little dumbed down at times.